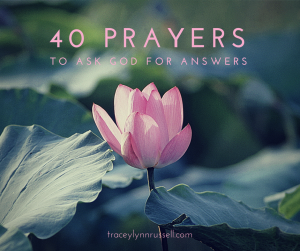 Psalm 34:17-18
When the righteous cry for help, the Lord hears
and delivers them out of all their troubles.
The LORD is near to the brokenhearted and saves those who are crushed in spirit.
Have you ever been so desperate for an answer that you audibly cried out to God?
 God will hear and be near! 
I have spent many mornings and evenings face down in my living room, crying out to God for answers and relief.
Crying out to God comes from a place in our hearts of deep pain and suffering Click To Tweet
Crying out to God happens as we fall  surrendered before the only One who has the power and ability to help us. Whatever the painful event or triggering situation, we have this promise that when our hearts break, God will hear us. Just like a parent who responds instantly to the depserate cry of their own child, God listens to us with His full attention.
Can we say the words of Nancy Leigh DeMoss, host of Revive our Hearts radio ministry:
O God, make us desperate, and grant us faith and boldness to approach Your throne and
make our petitions known, knowing that in doing we link arms with Omnipotence and
become instruments of Your eternal purposes being fulfilled on this earth.
Nancy Leigh DeMoss A Place of Quiet Rest, Moody, 2000, pg. 246 
prayer intention: Cry out to God

Oh God,

from the deepest place of my heart, I cry out to you for _______________________________.

I am asking you for to deliver me and rescue me from this situation which is causing me trouble and pain. I believe you hear me and your Holy Spirit will comfort me, even in this dark time. You will send me your light and your presence to be with me in the valley of the shadow of death. You will renew your purpose for me as you mend my heart and bring healing to my life or others around me.

In Jesus Name- amen
Have you ever cried out to God and received an answer? Encourage me with your experience –