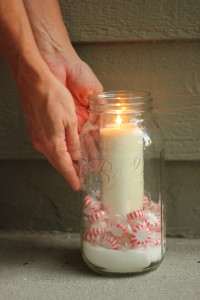 It just happened again!
I was crying in my car as I heard " I'll be home for Christmas" and the reality hit me that my mom won't be home this year.
I won't be opening the doors of her home and seeing the beautiful decorated tree.
I won't be seeing that smiling face of hers or eating dinner at her house on Christmas eve.
My children won't be opening tons of presents from Grandma and ripping open the wrapping all night.
My Mom won't be home for Christmas and maybe you have lost a special someone too?
Here are a few things to do when your loved one won't be home for Christmas either-
1.) Please have snow and mistletoe and presents on the tree!
It's important to try to keep going with the special things that bring joy at Christmas. Your loved one would not want you to sit in a heap of tears and not bring out the Christmas tree or decorations because you are sad. Just the opposite! They would want you to keep having the celebrations of life and loving those who meant so much to them.
This year, in their memory, deck the halls of your home and find new ways to celebrate with new  traditions that bring you joy.

Memories are a gift your loved one would want you to unwrap each year! Click To Tweet"]
2.) Christmas Eve will find me, where the love light gleams –
On the event of Christmas eve, it's hard not to have the physical presence of the person you love at Christmas. I know this sounds silly, but light a candle in their memory and let it shine at a place of honor in your home. Grief is the pain you feel when you lose someone, but mourning is the healthy, outward expression of that loss. Jesus spoke the best grief counseling and promise to those hurting at the holiday. " Blessed are those who mourn, for they will be comforted!"
This year, in memory of your loved one, light a candle and
Let the love light gleam to symbolize the light of their love in your heart.
Click To Tweet
No darkness of depression can overcome the light of love in your life. Click To Tweet
3.) I'll be home for Christmas, if only in my dreams – I would like to end with a poem about a first Christmas in heaven. Your loved one is celebrating a dream Christmas in heaven. Don't worry about them missing out or feeling sad. What they are experiencing is far beyond your wildest dreams!
Christmas in Heaven

by Wanda Bencke

I see the countless Christmas trees around the world below
With tiny lights, like Heaven's stars, reflecting on the snow
The sight is so spectacular, please wipe away the tear
For I am spending Christmas with Jesus Christ this year.
I hear the many Christmas songs that people hold so dear
But the sounds of music can't compare
with the Christmas choir up here.

I have no words to tell you, the joy their voices bring,
For it is beyond description, to hear the angels sing.
I know how much you miss me, I see the pain inside your heart
But I am not so far away, we really aren't apart.

Heavenly Angels

So be happy for me, dear ones, you know I hold you dear.
And be glad I'm spending Christmas
with Jesus Christ this year.

I sent you a special gift, from my heavenly home above. I sent you a memory of my undying love. Click To Tweet"]
After all, love is a gift more precious than pure gold
It was always most important in the stories Jesus told.
Please love and keep each other, as my Father said to do
For I can't count the blessing or love he has for each of you
So have a Merry Christmas and wipe away that tear
Remember, I am spending Christmas
with Jesus Christ this year.
Blessings to you this Christmas ! If you have a prayer need, please let me know in the comments! Thank you !