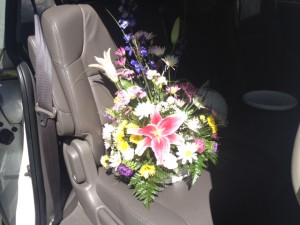 Here is a little check list to find out if you support your friend's ministry–
1.) Do you give your friend little tangible reminders of your support?
As I mentioned in my other post, my confidence was drooping before a big event and a friend drove some flowers to my doorstep. They encouraged me so much, that I put them in my car and took them to my upcoming event. It felt like I had a little reminder of how much my friend was standing beside me in prayer. Your tangible support could be a small piece of candy with a note or a text message with a picture. It doesn't have to cost a lot, it just needs to be some way that you let them know you notice what they are doing for the Lord. Let's face it- Ministry outside the comfort zone of your church family can be scary- Find a tiny way to say- GO FOR IT!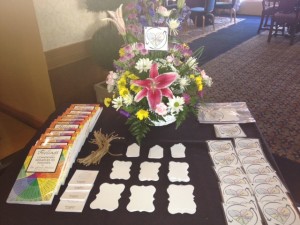 2.) Do you help promote your friend's ministry to others?
At the conference I had a book table and placed the flowers there to greet anyone who might want to talk! I loved hear ing all the responses from the ladies about the flowers. I proudly announced that my sweet friend gave these to me and I wanted to share them. It was an instant connection to the women meeting for me for the first time. They knew someone at home was supporting me and that says a lot. Do you ever post a wonderful comment on facebook about your friend's ministry? Do you tweet her cool quotes? Do you talk about her to people who might have a connection? Do people around you know you stand to support your friend? Your praise and appreciation open the door for others to see your friend as a valuable ministry worth investing in. You are your friend's living seal of approval. Wear her ministry with pride!
3.) Do you realize that your friendship has a vital role in the advancement of God's kingdom?
At the conference, I was nervous but so much more confident with the prayer support of my dearest friends and the knowledge that they were" holding up my arms" in love. Many sent me text messages, prayed over the phone with me and sent me notes. Exodus 17:12-says When Moses' hands grew tired, they took a stone and put it under him and he sat on it. Aaron and Hur held his hands up–one on one side, one on the other–so that his hands remained steady till sunset. When Moses grew weak, he had his friends help hold up his arms to ensure the victory of a battle that faced God's people. In a spiritual way, when you support a friend in ministry you hold up her arms and help God's kingdom advance through her efforts. Never underestimate the importance of critical friends around you in ministry. You may just be the Aaron sent in to help "hold up a friend" to win the battle for the souls of people.
I cried when I read this card today sent by the ladies from my first women's conference: