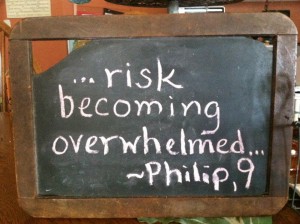 Summer is a hard time for me as I remember the loss of my nine year old nephew, Philip. He died from a very rare case of PAM- primary ambeobic meningitis contracted from lake water. The hot humidity in the air feels like a slap in my face every time I walk outside and feel the sting of reminders. Memories can overwhelm me.
Recently, my sister in law (Phil's Mom)  posted a quote she found written in his last science report for school.
He penned these words,
"To me, science is so complicated that when I try to figure it out, I feel like I could get amnesia. But I am still so interested in why things happen that I enjoy the risk of becoming overwhelmed by it."
This summer God has given me Phil's own words to comfort my own heart and gain wisdom for the future! 
I must begin to risk becoming overwhelmed 
Risk becoming overwhelmed when I am  sad and don't have all the answers ….
Call to me and I will answer you and tell you great and unsearchable things you do not know.
Jeremiah 33:3
Risk becoming overwhelmed when I am afraid and fear I don't have words to comfort my family…
"As for me, this is my covenant with them," says the LORD. "My Spirit, who is on you, will not depart from you, and my words that I have put in your mouth will always be on your lips, on the lips of your children and on the lips of their descendants–from this time on and forever," says the LORD.
Isaiah 59:21
Risk becoming overwhelmed when I am mad my resources seem limited….
But he said to me, "My grace is sufficient for you, for my power is made perfect in weakness." Therefore I will boast all the more gladly about my weaknesses, so that Christ's power may rest on me.
2 Corinthians 12:19 
Dear God-  
Even as I write these words, my fingers and heart tremble because at times, I am so scared.
Help me run the risk of daring greatly in this life, when I don't have all the answers, when I seem to be overwhelmed with uncertainty.
Help me trust your overwhelming power, peace and joy that will enable me to live for your great kingdom purposes.
Release my hold on my small plans to play it safe in this life-
Oh God, help me risk becoming overwhelmed…
Thank you Phil- I will always love and remember you ! You will always be my precious nephew!