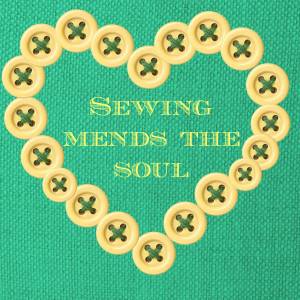 In this great day when most women wave banners of authenticity about their pasts, we crouch back from the honesty about our presents. We'll tell you all about our broken places of yesterday but don't dare admit the limitations of our today.

Lysa Terkeust "The Best Yes" 
My world feels like it is unraveling….
God stitched every part of my heart back together again after my mother and nephew died, but lately the chaos in my soul makes the stitching feel like I am ready to tear open.
With the holidays approaching, I feel the first tug of grief at the seams of my heart.
Slash!
I went over to see my new mom Fran. As I was talking to her, I reached out to touch a little curl of her hair. I told her how much I love her new little sporty hair cut. As my fingers felt the blonde lock, my heart felt cut by grief, like a pair of scissors. I had a flash back! I remembered complimenting my mother's hair and how she always called me her "greatest cheerleader". When my mother couldn't do her own hair during her hospital stays, I would be her ready-made beautician. I remembered the softness of her hair in my hands as the blow dryer warmed her head. I loved the look on her face as she relaxed knowing I would make her beautiful again.
Old memories can make you feel lonely
Rip!
My heart rips every time I hear a family member question their faith in God. Deep in my soul, I want to scream when I hear the lies of the enemy to this person.  I know I should have my sound doctrine ready and my answers in tact- I know I should have my shield of faith to withstand the attack of the enemy piercing my mind with" what ifs" and "should"  Today, I had no fancy answers. I  just walked away from the conflict and sulked into my room defeated.
Family members without faith can make you feel fearful for the future 
Torn!
Life in our home is not simple right now. I miss my security and private time.  There is a lot of added pressure right now.  I feel torn trying to be so many things, to so many people. I feel unsuccessful on all fronts. I feel pulled in so many directions and my heart feels torn with different loyalties and alliances.
A chaotic lifestyle and lots of change can make you feel insecure –

It's not a fun process to feel slashed with old grief , ripped up with fear and torn with insecurity!

Can you relate to coming apart at the seams right before the holidays?
Thank goodness for the art of sewing!
A good use for me is to let me go away with my sewing machine and come back with some really new stuff.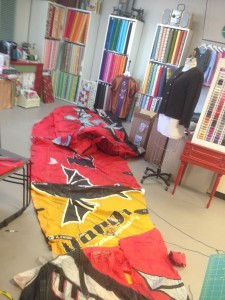 Last week, my husband gave me a few kites to play with in a sewing class. These kites are around $ 1200- 1500 each! The kites are made of high impact fabric specially designed to withstand extreme winds and lines that will hold up to 2000 pounds of weight.  These kites are a highly engineered work of art!
Just like a christian person, our faith is designed to withstand extreme pressure and to hold us in the strongest winds of life.
Being a Christian person doesn't mean we are indestructible and impenetrable to the hurts of life that tear at us. It just means our soul will need to be mended by God
As I laid the powerful and expensive kite on the floor of the sewing class, it was no match for my scissors purchased from  Walmart.
One slash, one rip and it was torn into shreds. However, the sheds were about to be sewn together in a masterful plan.
With the help of Miss Paula, I carefully took every scrap and used it to create the first ever kite surfing bag, a new product line that we hope to sell.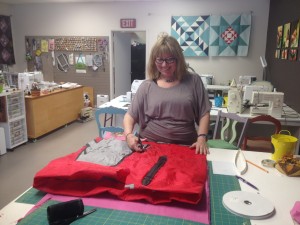 There was a plan for the unraveling of the powerful kites- There was a new purpose to be found even in the slash and ripping. No one is immune to the pain of emotions that tear at the fabric of our soul, but we can be mended and remade each day by the hands of God.
I am praying right now with all my heart that the same unraveling I feel emotionally, will be used by God to make something beautiful and something so useful for His purposes.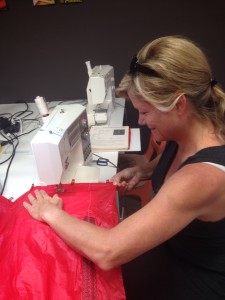 A prayer for today :
Sew me together God, with cords of your loving kindness-
Let the fear fall apart in my life, so you can bind me to your peace-
unravel the grip of insecurity, and tie me to your faithfulness-
Stitch your words of love into the fabric of my soul –
Keep me together with the power of your spirit holding me, tightly
Amen
Have you been sewn together today or do you feel a little unraveled emotionally-
Let me know how I can pray for you!