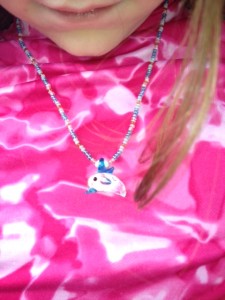 My daughter Faith received a treasured gift in the Florida Keys this summer. Following a family visit to see dolphins, her big brother bought her a dolphin necklace. After a few times wearing her precious treasure, the tail broke off… Of all things! grrrrr! A dolphin without a tail is a pretty unlovely thing!
I was angry at first when I saw the broken treasure. Part of me knew that once loved charm was headed straight for the trash. My baby girl's heart would be broken just like the little dolphin tail.
Faith held the little dolphin and then proclaimed, Look Mommy, it's not broken, it looks like Winter!
Winter is the world famous dolphin with no tail that survived against all odds. Faith learned about Winter through the movie Dolphin Tale seen over a year prior. Because of Winter's story, Faith did not see broken-ness but a little dolphin that was was  broken-less.
What's your story of broken-ness that might prove to the world they can become broken -less?
The broken pieces of your life can offer the missing peace to mend others who are hurting.
Here is an excerpt from Winter's website!
"Winter" is our most famous dolphin. You may have seen her featured on the NBC Today Show, CNN, BBC, or possibly the #1 box office hit Dolphin Tale, in theaters around the world. Winter was one of the most difficult strandings we have had at CMA. Her story is a bittersweet realization of the dangers these animals face as a result of human activity in the wild.
At only three months of age, Winter found herself wrapped tightly in a crab trap line and was unable to escape. She was rescued from Mosquito Lagoon (near Cape Canaveral) and transported to CMA to begin a long rehabilitation. Unfortunately, Winter lost her entire tail as well as two vertebrae a result of the serious injuries that she had sustained.
Although her story is intriguing, it is also very rare, as many dolphins unfortunately die in monofilament and crab trap lines. Despite the odds against survival, Winter's energy and ability to adapt to her new physical form has surpassed the expectations of many experts. Winter has done amazingly well in the short time since her stranding. She has completely healed, adapted to a new swim pattern, and learned to eat fish on her own… about twelve pounds a day! She is growing quickly, and now weighs in at 230 pounds!
Just wanted you to know today- You are not broken!
The Bible reminds us of the beauty of weakness with this verse from 2 Corinthians 12:10-
That is why, for Christ's sake, I delight in weaknesses, in insults, in hardships, in persecutions, in difficulties. For when I am weak, then I am strong.
Your struggles are a story in the making that God will use to inspire others as you press on and refuse to quit!
You could be the person that puts a smile on the face of someone else who will need to see their
broke-ness as broken-less!